Love this ... kayak ... canoe ...canak? Kayoe?
(Note: One of us "loves" it; the other does not care for it.)
4 to maybe 4.5 KAYAK RATING:
PROS:
The SE 330 is a wonderful boat. It's stable, well made, and fun. It tracks well and is fairly lightweight. The seat can be positioned wherever you choose and is not limited by Velcro strips. Fully inflated, it tucks in nice and tight. The deluxe seat is very comfortable and affords
great
back support (seat with blue straps). The standard seat is also comfortable and back support is
good
. The paddle that comes with it is solid, curved blade, and holds together. The skegs (2) are firmly affixed and there appears to be little likelihood they could ever fall off. The foot pump is quite effective and blows the whole show up in minutes. With all of the valves at one end, deflation is quick and sure, making re-packing easy. There is also a rear drain hole which makes it easier to clear any water as the kayak is folded for storage.
Canoe or kayak? It's a little of both. You sit lower than you would in a canoe, but higher than in a kayak. I personally prefer the open cockpit area as it affords a more spacious feeling and provides room to easily access any items carried on board. Overall, safe, well built, comfortable, and roomy.
There is a picture of a carry bag below. It is not expensive and it does hold the boat, paddle, seat, etc. It's a good buy; just remember when everything is in it, it does get a little hefty.
Given this is it's first season of use, I cannot attest to its durability over the long haul. Will add updates as appropriate.
CONS:
Initially I wanted the Deluxe Seat for back support. No problem there. However, the thickness of the seat does throw off your center of gravity. You get used to it, but it does also slightly affect stability. I ordered the Standard Seat to see if that would help. It did. the seat is thinner and you sit somewhat lower in the boat. Back support is good.
While all of the major inflation valves are in the back, which is a plus, they are also very close together, creating a tight situation that could be easily avoided. You can also see from the image that there are no lines running front to back and no D-rings on the side. To me, that makes no sense. I had to run a line so I could clip my water bottle, camera, etc. near me rather than way in back or way in front. The company does not sell D-rings to put on the 330, but there's no explanation of the reason. The pump is good and works fine, but I don't know how long the bellows will hold up.
As far as the company goes, you do get a live, English speaking person when you call. They were very helpful when the order was placed. However, we did have an issue over the QuikSail purchase which is discussed in a specific review of that item (we called 7 days after the customer satisfaction guarantee period had expired and got absolutely no customer consideration at all from the representative).
Review on Amazon:
http://www.amazon.com/review/R3JORXNRHW3RI5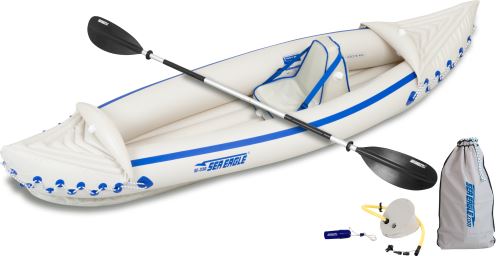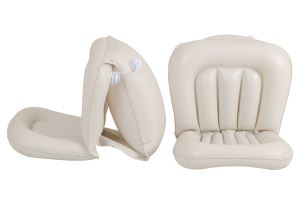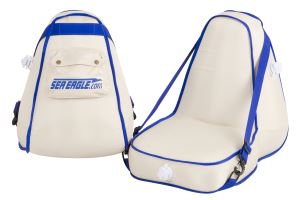 Standard Features:
NMMA Certified
Self bailing drain valve
Five deluxe one-way valves
Sun & saltwater resistant hull material
Lashed down inflatable spray skirts
I-beam construction floor
2 skegs on the bottom for better tracking & speed
Pressure Gauge, Repair kit & printed instructions
Bow & Stern Grab Line
Specifications:

Exterior:

11' 2" x 2' 10"

Weight:

26 lbs.

Capacity:

2 Adults or 500 lbs.

Interior:

9' 6" x 1' 1"

Tube Diameter:

10"

Deflated:

24" x 16" x 7"

Chambers:

Three (port, starboard & floor)

Material:

33 mil Polykrylar

Seam:

High Frequency Welded

Floor:

Inflatable I-beam construction

Air Valves:

5 Deluxe One Way

Inflation & Assembly time:

6 min.

Whitewater Rating:

Up to Class III