Kayak rating: NEGATIVE FIVE KAYAKS
This is the hype:
QuikSail- Universal Kayak Sail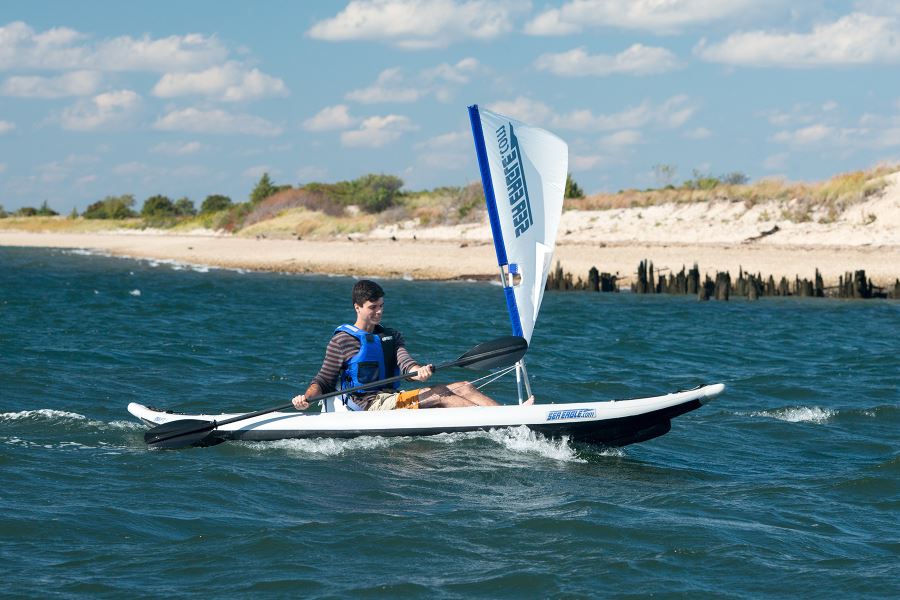 Video:
14 Sq ft Neil Pryde Sail
Strong aluminum frame
Nylon carry bag
Hands-Free
Self-Standing
Measures 43"x6"
Extends to 81"
Weights 3 lbs.
Sails up to 7 knots
Universal Kayak Sail, converts any kayak into a sailing vessel. Easy deployment in under one minute, breaks down to just 43" for convenient storage in the bow or stern. This "down wind" sail can move a kayak up to 7 knots and can be steered using your paddle as a rudder. Works with all Sea Eagle Kayaks and almost any other kayak out there.
Note: Deluxe Inflatable Seats required when using with the Sport Kayaks.
This is the reality:
RATING: Less than 1
Got my SE 330 Kayak for Christmas 2013. Love the boat and will do a review of it in another post. I also got the QuikSail which I used for the first time on 6/28. Keep in mind that in Maine, unless you have wet suits, it's difficult to get on the water much before mid-June. To say the very, very least, I was
disappointed
. The
exterior length of the 330 is:
11' 2" x 2' 10". Front and rear spay skirts are about 18" each. The deluxe seat is 21" inches deep, and we all have legs that are generally 3+ feet long when sitting. So, cockpit space is 11-3-2=6 plus divided by 2 (front/back) and you have 3 feet of open cockpit front and back. yes, there is also space under the spray skirts. Enter the almost 4' folded, and 7 foot open, QuikSail.
So we're on the water and a breeze kicks up. I've put the folded sail aft of the seat and it's protruding into my paddle space. Not fun. I then put the four poles together to make two and find that part of the sail has slipped off. The breeze is pushing me in the wrong direction. I get the sail, all 7 feet of it, together and brace it with my feet, according to directions. The wind shifts a bit and the sail topples on my head. I had clipped one end of the provided rope (clip not provided) to the right side of the ring on the seat. I wrap it around the ever falling sail and try to clip it on the left ring. Not going to happen. The seat is pretty well jammed into the side of the boat (it's what keeps the seat in). Fortunately, I had strung a line from bow to stern on the left side to attach my water bottle, camera, etc. I clip the sail rope to that ... the wind shifts and it falls on my head again. I gave up; it was not easy nor fun. It was just too awkward, too long, and unwieldy.
I called SeaEagle. On the plus side you do get a live person and they speak English! I told them that the sail was a Christmas gift and that I just got to try it out. Nope, past the 6 month return policy. I tried to explain that you can't even get on the water until mid to late June. Nope, past the six months. And while, as a business owner, I respect policy, the "right" thing, in my opinion, to have done would have been
something.
Offer to take it back and sell it used (once). Give me half my money back (this sucka ain't cheap). Do something.
While the sail may do better on larger boats with D-rings on the side and not the seat, I would not recommend this item for those who have a 330.