Obviously, there are some 'must have' items for going on the water. We also discovered some issues with what we bought and offer comments on the equipment.
Item 1-
Life vest
. We got vests at a local box store. Overall prices are reasonable, but we later discovered that some general style vests are not very comfortable when paddling. They can be bulky and rub under the arm pits and can ride up your back.
We would recommend vests more suited for fishing or specifically for paddling. They can be more expensive but worth it for comfort.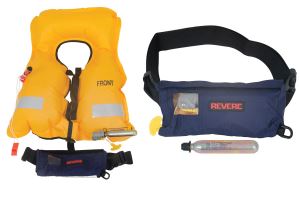 You want less padding under the arms and on the back.
Here's a note from SeaEagle.com:
About Personal Flotation Devices
Essential for boating safety, Personal Flotation Devices are mandated by the U.S. Coast Guard for every occupant of a motorized vessel and strongly for kayaks. Not having the required PFDs aboard could lead to an expensive ticket, so it's much better to be safe and legal.
We used the paddles, 84", that came with the kayaks our first time out. Our conclusion: give them away or save 'em for emergencies. They are too short and are not contoured, which makes for harder paddling.
Far superior are the 96" contoured. The water flows off better and it's easier on the shoulders.
Waterproof bags
are important. You'll want to keep your wallet, phone, keys, camera, and any other things you feel you must have, dry. We suggest going a size up from what you think you need. We found that products simply do not allow enough space for thicknesses of stuff.
And keep in mind that we're only talking about going out for a few hours, not necessarily all day or for several days, although that is also an option (which obviously requires additional gear). So if you want to picnic on an island, you want small coolers and bags to hold other stuff. We prefer bags with cords that we hung around our necks or that we can clip to our life vests (for small stuff), and/or bags that would float and could be clipped to the kayak ... just in case. Don't go cheap or too small.
Since you're out in the bright sun, hats, bottled water (non-BPA; glass is best), and sun glasses are a must. We have a line clipping the water bottle to the kayak; our hats are broad brimmed and with a chin strap (in case the wind kicks up). Glasses have flotation straps attached.
Be sure to get a pair of
boat shoes
. You'll be getting in and out of the water from boat launch (and other) areas and you'll want something on your feet. We also attached a whistle to our vests in case of emergency (this is mandatory in Maine if you're on the ocean).
Two absolute essentials, in our opinion, to have with you are a small repair kit and the air pump. They're easy to stow in the storage area of the kayak, are hopefully never needed, but it's not a bad idea to stow this gear on board.
Our first sojourn on the lake lasted just a few hours. Our goal was to get acquainted with the kayak and how it handled. We found that the upper body, shoulders in particular, got the most exercise. It is also important to realize that the distance that you paddle out is the distance you paddle back, so keeping an eye on stamina levels is important.
It is also worth noting that it was easy to just toss the kayaks into the bags and into the back of the car. When we got home there was no lifting kayaks from the car roof, finding a storage space and dealing with roof racks. For a boomer, the process was fairly simple and easy.
We slept well that night.